Lower Zambezi - A Wilderness Experience
There is nothing quite like a Zambian adventure.
Nsofu Lodge is paradise for people who want the best of both worlds – unforgettable thrill and deluxe hospitality. Nsofu Lodge meets the needs of families looking to unwind and create unforgettable memories; couples looking for a romantic gateway and friends looking to escape the hassle and bustle of the city.
Home to both the Zambezi River and the Kafue River, it is famously known for fishing expeditions that cater to any adventure angler, conventional, lure, fly fisher and sets them up against Bream, Vundu, Catfish, Nkupi, African Pike and the formidable Tiger Fish – world renowned for being fierce, hard fighting and the toughest freshwater fish to pursue. No experience is the same.
Explore the Zambezi River
Here's what we know about the Zambezi River.
Stretching for an incredible 3,540 kilometres, the Zambezi River is the longest east flowing river in Africa. Along the Mighty Zambezi River are several waterfalls including the Victoria Falls – one of Africa's most popular attractions and a Natural Wonder of the World.
The Zambezi River is home to the magnificent crocodiles, hippopotamus and the domineering elephants, lions and buffalo who are part of Africa's Big 5. The Zambezi River attracts more than 400 bird species making it the perfect place to spot a rare pelican, egret or African fish eagle.
Here's what we know about the Kafue River.
The Kafue River starts as a trickle from the marshy dumbos of Zambia in the north-west part of Chingola. As a major tributary of the Zambezi River, Kafue River boasts of the same power, influence and beauty.
Flowing for 960 km, the Kafue River hosts the Kafue National Park, is used for irrigation and hydroelectric power production at the Kafue Gorge Power Station before it joins the Zambezi River at Nsofu.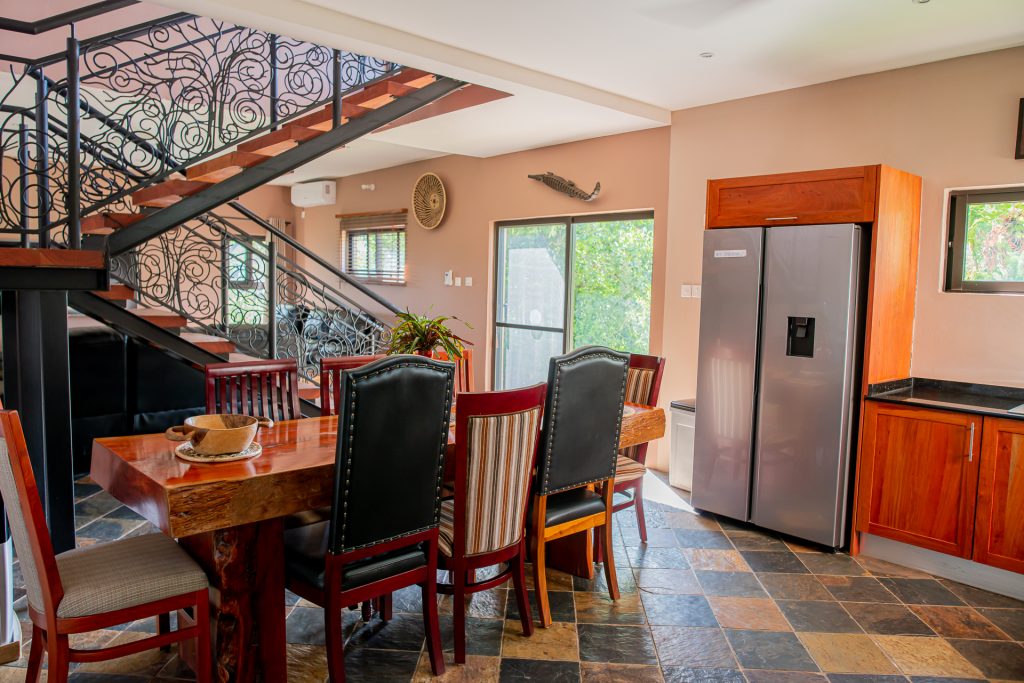 Our lodge comprises of 3 family villas and 10 chalets all carefully designed with big sliding doors that welcome the fresh winds of nature and natural light beaming off the Zambezi as you relax. Each unit has an outside area with a stunning view of the river, allowing guests to unwind in the fresh air filled with birdsong. All units are ensuite with a fan and air-conditioning. A mini bar fridge is available as well as free tea and coffee for guests to enjoy.