Lower Zambezi - A Wilderness Experience
The Zambezi and Kafue are a paradise for any adventurous angler, whether a conventional, lure or fly fisher, you are up against Tiger Fish, Bream, Chesa, Vundu, Nkupi, Catfish, and African Pike. The formidable Tiger Fish is world-renowned for being a fierce, hard-fighting fish that has a reputation of being the toughest freshwater fish to pursue.
The river is an amazing 2,200 miles (3,540 kilometers) long. The Zambezi is the longest east flowing river in Africa. Its source is in the wetlands of the Mwinilunga District of north-western Zambia, near the border where Zambia, Angola and the Congo meet. The Zambezi flows through six countries. From its source in Zambia the river flows through Angola, Namibia, Botswana, Zimbabwe (along its border with Zambia), and then across Mozambique to the Indian Ocean.
There are several waterfalls on the Zambezi including the amazing Victoria Falls, which is one of Africa's most popular sightseeing spots. Other waterfalls on the Zambezi include Ngonye Falls in Western Zambia and Chavuma Falls on the border of Angola and Zambia. Along the river numerous animals can be found. Along the shore Crocodiles and hippopotamus are abundant. Large animals such as elephants, lions, zebras and buffalo can be found near the river in many areas. Numerous birds can be spotted along the river including pelicans, egrets, and African fish eagles.
The source of the Kafue River is at the border of the Democratic Republic of Congo and Zambia, about 120 km north-west of Chingola. The river starts as a trickle from the marshy dambos. After flowing for a long distance of about 960 km, it joins the Zambezi River at NSOFU!
The Basin of River contains Kafue National Park. The waters of the River are used for irrigation and hydroelectric power such as the Kafue Gorge Power Station. It is a major tributary of the Zambezi River and of course it is one of Zambia's principal rivers.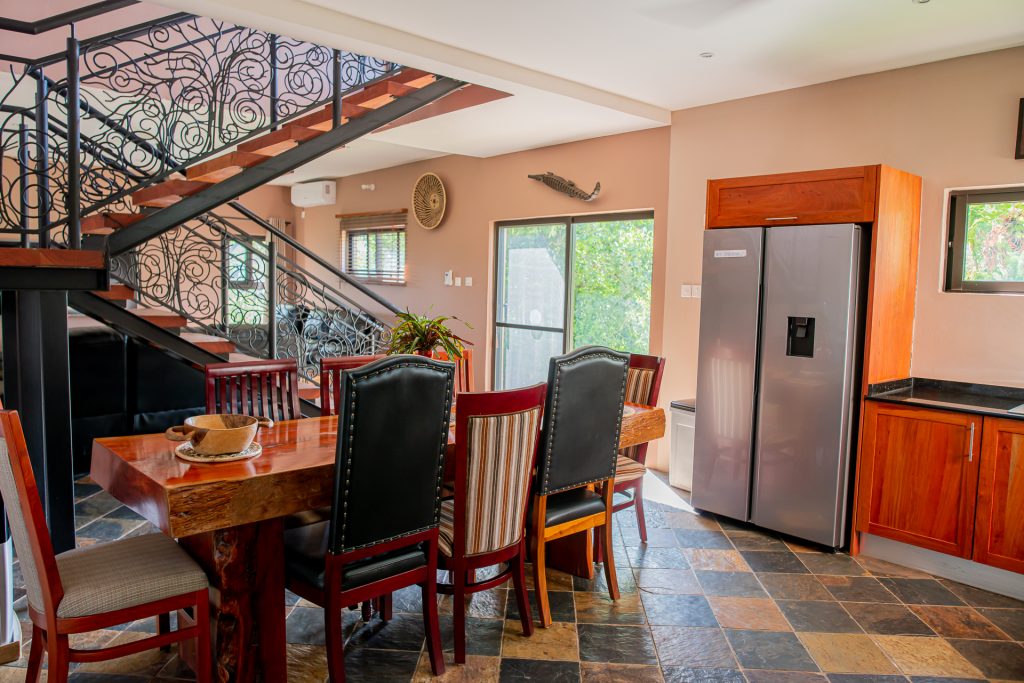 Our lodge comprises of 3  family villas and 7 chalets. Each Unit has en-suite facilities, air-conditioning and a stunning view of the Zambezi river. They also have a mini bar fridge and free tea and coffee for guests to enjoy.